Now Pogopin connectors are more and more widely used, and they are more and more popular with consumers. The electroplated layer has a very good effect. Today, I will introduce to you the electroplating method of POGOPIN connector parts.
  1. Pogo pin tension spring
  The pogo pin tension spring is usually made of beryllium copper, stainless steel, and piano steel wire. These various materials have their own unique characteristics. When planning the tension spring, the operating temperature, impedance and elasticity requirements should be considered. Tension springs are usually plated with silver or gold. Silver can improve its electrical conductivity and high thermal function, while gold plating can prevent oxidation and corrosion.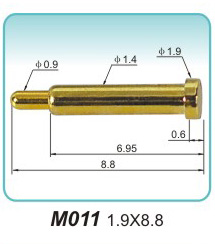 2. Pogo pin needle tube
  The pogo pin connector is a kind of deep-machining parts. Generally, it is necessary to go through two processes of nickel plating and gold plating during electroplating. (40u=1 micron), gold plating is generally used as a surface treatment layer, and the thickness is 0.1~1.0 micron. For some small-diameter and long blind-hole tubes, when plating the inner wall, side holes are usually opened at the bottom end, so that the electroplating solution can fully reflow at the bottom of the tube and ensure that the inner wall can deposit gold at the bottom of the tube.
  3. Pogo pin shaft
  Most of the first choice of pogo pin shaft is to choose gold plating, gold plating has excellent electrical conductivity and anti-oxidation ability. The thickness of the gold plating has a great impact on the life of the entire pogo pin connector, but due to cost issues, the nickel bottom treatment and the final gold plating thickness are generally selected. Of course, according to customer requirements, rhodium, palladium and some more expensive materials can be used as needle shaft electroplating materials.
Read recommendations:
M2742 6.0x13(1A)anode electrode Production
M2716 5.5x7.25(1A)anode electrode company
M2648 7.5x5.8(4A)anode electrode company
Introduction to storage of board-to-board connectors!Antenna probe company
competition faced by pin header and female pogopin connectors can be divided into two aspects.pogo