The development and advantages of pogopin single row connector
  The rapid development of the electronic equipment market has brought about a number of industry innovations. Pogopin single row connectors, as parts and accessories that play a role in the connection of equipment, often appear in the electronic equipment we use. At present, in order to adapt to new Demand, small size, narrow pitch, and high current have become its development trend, and the volume and shape of the connector will affect the functionality of the device.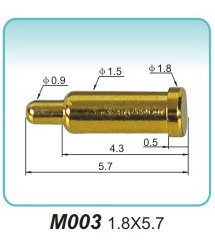 Nowadays, with the rapid development of 5g communication and smart home, the demand for pogopin single-row connectors is also increasing. Due to the advantages of small size, stable large current and resistance to failure, it is widely used. After years of development, the The industry has long been mature, and more and more people are investing in it. As the current ideal connector, whether it is a service life of up to a million times, stable impedance and fashionable appearance, it is more suitable for current electronic products, not to mention it. It has the advantages of fast production speed, low cost, and customization of different styles.
  As an indispensable part of electronic products, pogopin single-row connectors can not only save space, reduce the difficulty of assembly, but also achieve waterproof and moisture-proof functions. It has become a major selling point of the equipment. The rigorous process standards also make it suitable The manufacturer's technical strength requirements are very strict
Read recommendations:
M2742 6.0x13(1A)anode electrode Production
M2716 5.5x7.25(1A)anode electrode company
M2648 7.5x5.8(4A)anode electrode company
Introduction to storage of board-to-board connectors!Antenna probe company
competition faced by pin header and female pogopin connectors can be divided into two aspects.pogo