The spring of the pogo pin is made of spring steel, which is used to control the movement of the mechanical parts, ease the impact or vibration, and store it. The spring deforms under the action of external force, and when the external force is eliminated, the spring can restore its state. Many tools and devices use the characteristics of springs to reset. During use, it was found that the elasticity of the hardware compression spring was insufficient or broken. Why is that?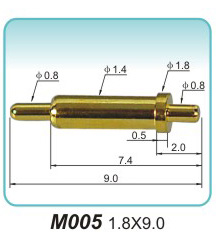 1. Unreasonable design and production parameters: only pay attention to parameters such as outer diameter, inner diameter, and length, and often ignore the cross-sectional area and pitch of the wire, resulting in insufficient flexibility;
  2. The selection of standard spring is unreasonable: the lighter load type can not bear heavier load, resulting in insufficient sensory elasticity;
  3. The spring quality grade is wrong: general springs are high-quality springs or imported springs, and the sensory elasticity is insufficient;
  4. The use temperature exceeds the specified temperature, and the elasticity is reduced or even lost;
  5. The spring wire itself is relatively soft, or the quenching temperature of the spring is low or the holding time is not long enough, or the tempering temperature after the spring is formed is too high and the time is long, resulting in the tensile and compressive strength being achieved but the elasticity is not enough.
  Compression springs may also break due to some reasons during use. For example, if the mandrel is too small or the spring is placed horizontally, the spring and mandrel will wear and break; the mandrel is too small, the assembly surface is uneven, and the positioning surfaces at both ends are poorly parallel. Causes the spring to compress and twist, generate local high pressure and break; use more than a large amount of compression to generate high-efficiency stress to make the spring break, and so on.
Read recommendations:
M2742 6.0x13(1A)anode electrode Production
M2716 5.5x7.25(1A)anode electrode company
M2648 7.5x5.8(4A)anode electrode company
Introduction to storage of board-to-board connectors!Antenna probe company
competition faced by pin header and female pogopin connectors can be divided into two aspects.pogo