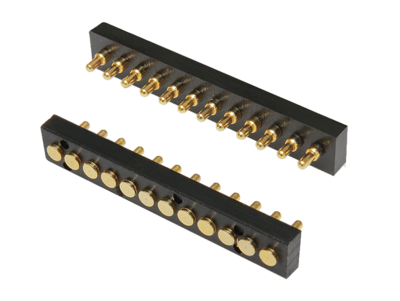 The internal structure of the pogopin pogo pin is diverse, mainly including reverse drilling and oblique section. On this basis, it is extended to add structures such as balls. Each structure has its own merits, and the pogopin structure needs to be designed according to specific performance requirements and applications.
  1. Advantages of reverse drilling structure: smooth compression, easy processing, large stroke, conventionally used for signal transmission, disadvantages: unstable impedance, large elastic force is required, and is widely used for charging and signal transmission of smart wearable products.
  2. The advantages of the beveled edge structure: The impedance is stable, at 20-50 milliohms.
  3. The structure of bevel and bevel is added. Advantages: stable impedance, can increase the ball with excessive current. Disadvantage: the process is more complicated than the structure of bevel, and there are certain requirements for the height of the needle tube.
  4. Slope with retaining wall and ball structure Advantages: high current resistance, stable structure. Disadvantages: Needle increases retaining wall, complex process, high cost
  5. The advantages of the ball needle structure: it can be used for mechanical positioning and lateral connection, which is used for signal transmission. and many more
Read recommendations:
M2742 6.0x13(1A)anode electrode Production
M2716 5.5x7.25(1A)anode electrode company
M2648 7.5x5.8(4A)anode electrode company
How does the PCB probe work correctly? Is it easy to install