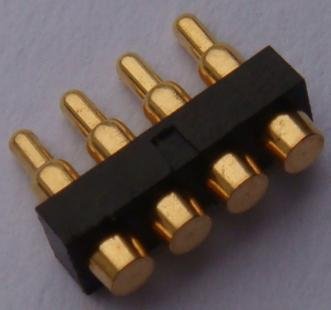 During the test process, the Pogo pin often contacts with solder balls or pins, which inevitably leads to tin hanging. The current method to solve this problem can be effectively controlled by changing the coating material of the pin.
  In terms of the needle coating of Pogo pins, most of the materials used at present are Au materials. The adhesion of Au to Sn is relatively strong. In order to solve the problem of this material characteristics, Pdco materials can be used instead of Au. Pdco is also the same Also a precious metal, it has the following material properties compared to gold.
  (1) Hardness
  The hardness of Pdco is 450HV
  The hardness of Au is 200HV
  The surface hardness of Pdco is higher than that of Au, which makes Pdco have better wear resistance than Au.
  (2) Friction
  Pdco has a coefficient of friction of .40
  Au has a coefficient of friction of .65
  Lower coefficient of friction helps the needle move more smoothly within the tube wall
  (3) Particle size
  Pdco is available in sizes 50-150 Angstroms
  The particle size of Au is 200-250 Angstroms = 0.0000000001 m
  Small particles of material are more difficult to cause surface oxidation
  (4) Toughness
  Pdco: 3-7% elongation
  Au: <3% elongation
  Stronger surface toughness The surface is less prone to cracks under the collision of the needle with the period of contact.
  From the above data, it can be seen that Pdco is better than Au in terms of material properties. But all materials are not perfect, and Au is indeed higher than Pdco in the most important resistance aspect!
  (5) Resistance (data obtained from the same number of times of use under the same needle and different coating test environments)
  Au 19mΩ
  Pdco 26mΩ
  When encountering products that are sensitive to impedance data, the test yield of Au is lower than that of Pdco.
  In summary, for the respective characteristics of Pdco and Au. KITA develops new coating alloy 2-2 that combines properties of two materials
  In terms of resistance, the data of alloy 2-2 is very close to that of Au, and at the same time, it can obtain the same tin-free characteristics as Pdco, and its material hardness is higher than that of Au and Pdco.
  Contrast hardness:
  The hardness of Alloy2-2 is 680HV
  The hardness of Pdco is 450HV
  The hardness of Au is 200HV
  In Alloy 2-2, the raw material is covered with 4 layers of gold to achieve the required properties.
Read recommendations:
M2742 6.0x13(1A)anode electrode Production
M2716 5.5x7.25(1A)anode electrode company
M2648 7.5x5.8(4A)anode electrode company
How to find pogo pin manufacturers
An effective means for pogo pin connector company to improve product quality.ground electrode Direct