The structure and product classification of pin header pogopin connector
  ① Contacts. The electrical connector is the core component of the pogopin connector. It is a contact pair composed of an anode contact and a cathode contact, which is completed by the insertion of the female and male contacts.
  The anode contact is a rigid part, and its shape is cylindrical (pin), square column (pin) or flat. The anode contacts are usually made of brass and phosphor bronze.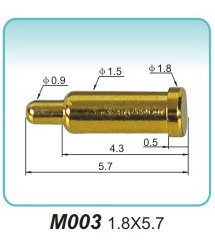 The cathode contact is the socket, which is through the elastic structure to make the elastic force generated by the elastic deformation of the pin when inserted to form close contact with the positive and negative contact parts, thereby completing the connection. Its structure is diverse, including cylindrical (splitting groove type, necking type), tuning fork type, cantilever beam type (longitudinal slot), folding type (longitudinal slot, "9" shape), box shape (square Jack) and double-sided jacks.
  ②Insulation materials. Insulation materials are also often called bases or mounting plates, and their function is to arrange the positions and spacing of the contacts as required, and to ensure the insulation performance between the contacts and between the contacts and the housing. Excellent insulation resistance, withstand voltage performance and ease of processing are the basic requirements for selecting insulating materials to be processed into insulators.
  ③Shell. The shell is also called the shell (depending on the type). It is the outer cover of the pogopin connector, which provides mechanical protection for the insulating mounting plate and the plug, as well as the connector when the plug and socket are inserted, and then the pogopin connector is fixed to the device.
  ④Attachment. Sub-assembly structure and installation accessories. Including clamp ring, positioning key, positioning pin, guide pin, connecting ring, cable clamp, sealing ring, gasket and other structural accessories. Mounting accessories such as screws, nuts, screws, spring rings, etc. The accessories mainly include standard parts and general parts.
  Pogopin connector product classification
  Technically, there are only two basic division methods for pogopin connector product categories: according to the shape and structure, it can be divided into round and rectangular (cross-section); according to the operating frequency, it can be divided into low frequency and high frequency (3MHz limit).
  According to the above division, the coaxial pogopin connector is circular, while the printed circuit pogopin connector is rectangular. The cross-section of the popular rectangular pogopin connector is trapezoidal, approximately rectangular. Using 3MHz to divide the low-frequency and high-frequency regions is basically the same as the frequency division of radio waves.
Read recommendations:
M2742 6.0x13(1A)anode electrode Production
M2716 5.5x7.25(1A)anode electrode company
M2648 7.5x5.8(4A)anode electrode company
Introduction to storage of board-to-board connectors!Antenna probe company
competition faced by pin header and female pogopin connectors can be divided into two aspects.pogo