Despite the continuous development and advancement of technology, floor fans are still a must-have for most families in summer. Generally, a detachable and assembled floor fan is mainly divided into three parts: the first part is the fan head motor, the second part is the connecting rod between the fan head and the base, and the third part is the base. When designing the fan connecting rod, a connector needs to be applied, and the connector meets the following conditions:
确认提交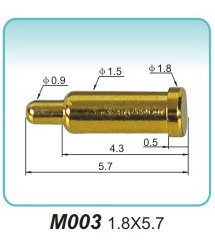 1. The installation volume should be small and meet the diameter limit of the fan rod.
  2. Strong current flow and support large current, although it needs to be used as a connection medium for power supply base to energize the motor.
  3, the connection performance is stable, and there will be no momentary interruption due to fan vibration.
  4, resistance to plug and wear, to satisfy customers that they can be disassembled when the fan is not in use.
  5. The contact resistance is small and there will be no abnormal heating.
  Bevel: In order to ensure 100% contact between the needle and the needle tube when working, we cut the end of the needle that contacts the spring into a bevel. This design concept can ensure a low and stable contact impedance and can absolutely ensure the stable conduction of the product. This design of reverse drilling is the best choice for small size connectors, which can meet the elasticity requirements of customers.
  The length of the matching spring of this design can exceed the length of the needle tube. In the case of limited space, the design of reverse drilling can obtain a stable elastic stroke. The flat-bottomed design will not be inaccessible due to certain conditions on the structure of the needle and the needle tube, which will cause the current to not go through the needle tube, and the wall of the needle tube will follow the spring straight, which will cause the resistance to be too large and the voltage will drop in a large arc.
Read recommendations:
M2742 6.0x13(1A)anode electrode Production
M2716 5.5x7.25(1A)anode electrode company
M2648 7.5x5.8(4A)anode electrode company
Introduction to storage of board-to-board connectors!Antenna probe company
competition faced by pin header and female pogopin connectors can be divided into two aspects.pogo