What are the functions and features of pogo Pin?
  1. Basic concepts
  pogo pin is also known as pogo pin, thimble, contact, spring pin, charging pin, stretchable elastic pin, probe, etc.; mainly used in smart wearable, electronic consumer products, such as mobile phones, computers, printers, GPS positioning, Communication equipment, medical equipment, aviation equipment, etc.; application-oriented products such as smart watches and smart bracelets.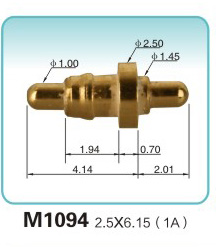 2. Product introduction
  Pogo Pin is a special connector. The basic structure consists of a turning needle tube, a turning needle and a compression spring. The needle tube is crimped at the mouth of the needle tube to keep the needle in the needle tube, and the contact force is provided by the spring to establish an electrical connection between the needle and the butting parts.
  3. Composition of pogo pin
  It is mainly assembled by needle shaft, spring and needle tube, and then pre-compressed by automatic riveting machine to become a spring needle with elasticity. The surface of the product generally has a plating layer, the most common is gold plating, nickel plating, tin plating and so on. Mainly to prevent the product from oxidation and corrosion in the air. Product life is also related to the thickness of the coating.
  Product structure (shape)
  Flat bottom type) Good stability, the bottom of the needle tube is a flat bottom design, which is easy to be welded to the PCB board;
  Plug-in type) There is a positioning pin at the end of the needle tube. When welding with the PCB board, there will be no offset phenomenon, and the positioning effect is good;
  Bending type) The tail is bent, providing designers with more choices in the use of space;
  Double-headed) The double-headed double-action design allows engineers to have more space flexibility in the board-to-board bidirectional connection;
  Wire-bonding type) Suitable for cable end, easy to be welded with wire;
  Threaded) products with special specifications can meet the different needs of customers, and at the same time, they can be customized according to customer needs.
Read recommendations:
M2742 6.0x13(1A)anode electrode Production
M2716 5.5x7.25(1A)anode electrode company
M2648 7.5x5.8(4A)anode electrode company
Introduction to storage of board-to-board connectors!Antenna probe company
competition faced by pin header and female pogopin connectors can be divided into two aspects.pogo