Pogo pins, also known as PogoPin, pogo pins, thimble pins, charging pins, etc., have the characteristics of long life, high current, low impedance, corrosion resistance, etc., and are widely used in semiconductor equipment to play a role in connection.
  In use, some customers will encounter unsatisfactory compression of the spring needle, card pin and other bad phenomena. The card PIN is seriously bad, the pre-compression is not smooth, and the needle cannot work normally.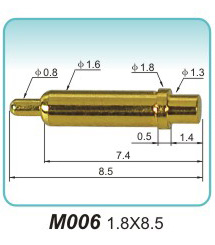 Reason 1:
  Summary of appearance status:
  1. Sample 1 observes under the microscope that there is obvious residual glue in the nozzle, and the glue has been cured and hard.
  2. Observed under the microscope for sample 2 there is obvious residual glue in the nozzle, the glue is not completely solidified, and the needle shaft can be slightly bounced.
  Reason two:
  Analysis: The solid glue dropped during the process of disassembling the needle shaft, and the needle shaft returned to normal when pressed and bounced.
  Reason three:
  Analysis: 1. After disassembling the bad sample 2 it is found that there is glue on the needle shaft
  2. Observe the spring and needle tube, there is no abnormality.
  Summary: 1. Poor sample 1 The reason for shrinking needles and pin stuck is that solid rubber plugs the nozzles and causes
  The needle shaft cannot be pressed normally.
  2. The reason for the bad sample 2 pin stuck is that there is colloid blocking the nozzle of the tube, which leads to the pin stuck.
  3. There is no glue process environment in our company's riveting process.
Read recommendations:
M2742 6.0x13(1A)anode electrode Production
M2716 5.5x7.25(1A)anode electrode company
M2648 7.5x5.8(4A)anode electrode company
Introduction to storage of board-to-board connectors!Antenna probe company
competition faced by pin header and female pogopin connectors can be divided into two aspects.pogo