With the development of technology and modern industrialization needs, Pogo pin spring thimble connectors are widely used in various industries and are the most common connectors. Pogo pin pogo pin connectors are used in various industries such as watches, mobile phones, communications, medical care, cars, aviation, military industry and consumer electronics, especially in the huge demand for electronic work products.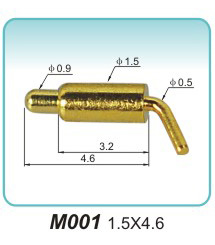 1. Advantages and features of pogo pin spring pin connector
  1. Pogo pin connectors provide electronic products with features such as stability, durability and corrosion resistance
  Some electronic charging connectors use pogo pin connectors, which are not only more convenient, but also improve the stability, durability, and corrosion resistance of the connectors.
  2. The pogo pin connector has large shrinkage and stable touch
  Pogo pin pogo pin connector is more effective than the shrapnel type to tighten the amount of work, and ensure the stability of the touch. Compared with the shrapnel type using the same shrinkage PogoPin pogo pin connector, when the working position is 4mm and the shrinkage is 1mm, the Pogo pin pogo pin connector will take up less PCB board space, which can complete the thin and small body. change.
  2. The life span of the pogo pin connector is longer
  1. High requirements for material selection and gilding of pogo pin connectors
  Pogo pin's requirements for needle tube, needle shaft, spring material selection and gilding are all longer than traditional products, and it can maintain the continuous use of the connector for more than 10,000 times.
  2. The pogo pin connector can maintain stable electrical function when it is tightened
  When being compressed, the position of the touch point of the Pogo pin pogo pin connector will not change, and a stable connection point can be maintained to obtain stable electrical functions. The durability of the Pogo pin pogo pin connector is stronger than that of the shrapnel type, and the combination of the plastic colloid shape and the thimble can be set freely.
Read recommendations:
M2742 6.0x13(1A)anode electrode Production
M2716 5.5x7.25(1A)anode electrode company
M2648 7.5x5.8(4A)anode electrode company
Introduction to storage of board-to-board connectors!Antenna probe company
competition faced by pin header and female pogopin connectors can be divided into two aspects.pogo