About the environmental conditions for the use of radio frequency pogo pin
  1. Ambient temperature
  refers to the environment in which the product works, and should be used within the ambient temperature specified by the product. Even if the external environment temperature is not high, if the product is working in the chassis, the poor heat dissipation conditions and the heating of other components will cause the ambient temperature of the product to be much higher than the external ambient temperature. Exceeding the specified ambient temperature will damage the metal coating or insulator. At the same time, too low temperature will also cause the insulator to crack, which will eventually reduce the performance of the radio frequency pogo pin or lose its function.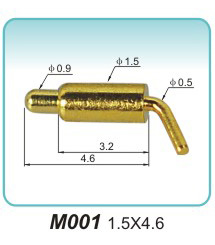 2.、Wet or water
  Moisture or water will cause a water film to form on the surface of the insulator, which will reduce the insulation performance and even cause misconduction between adjacent contacts. Generally, radio frequency pogo pins that are used in high humidity or water conditions for a long time should use sealed connectors.
  3. Low air pressure
  The air pressure will decrease under high altitude conditions (except in the constant air pressure sealed chamber). When the product is under low air pressure conditions, the product's dielectric withstand voltage will drop. If the transmitted voltage is higher than the product technical conditions, electrical breakdown may occur , Resulting in failure.
  Four, corrosive environment
  It refers to the atmosphere around the product, such as the sea with severe salt spray and the storage warehouse of chemical raw materials with severe acid and alkali. These conditions will cause corrosion and erosion on the metal parts and insulators of the connector. When selecting, pay attention to the manufacturer. Put forward special requirements or choose products that can meet your requirements. At the same time, it should also be noted that the plastic parts of some connectors are not resistant to solvents such as banana water, benzene, acetone, etc. Please pay attention to the regulations in the product catalog.
  5. Mechanical conditions
  refers to the mechanical effects of vibration, shock, collision, acceleration, etc., which are selected according to the parameters in the product sample. Generally speaking, the mechanical parameters of twist needles in similar products are relatively high and easy to guarantee. Note that in actual use, after the cable and the contact are terminated, the cable should be fixed by a clamp or other means. The cable that is too long and has no fixing measures will endanger the cable under external effects such as vibration or shock. It is safe, and in serious cases, it will cause damage to the radio frequency pogo pin and cable breakage.
Read recommendations:
M2742 6.0x13(1A)anode electrode Production
M2716 5.5x7.25(1A)anode electrode company
M2648 7.5x5.8(4A)anode electrode company
Introduction to storage of board-to-board connectors!Antenna probe company
competition faced by pin header and female pogopin connectors can be divided into two aspects.pogo