With the development of the market and the upgrading of product technology, more and more consumers are not only limited to the multi-function of the product, they are also pursuing a stylish appearance and a small and thin appearance. But to manufacture and design such products is a huge challenge for all electronic product engineers. Because of the structural design space and the standard specifications of the connectors, it is difficult for engineers to have a good choice to complete it. In addition, pogo pins have obvious advantages in terms of structural space usage, assembly cost, life, sample cycle and cost.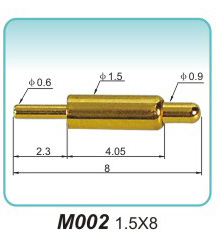 The main function of the pogo pin is overcurrent, ranging from 20MA-10A. Mainly, there are strict regulations on the diameter, height, and plating requirements of the pogo pin.
  The pogo pin needle requires a smooth surface into a small round hemisphere. Needle design requirements for POGOPIN pogo pins.
  Bevel: In order to ensure that the needle is always in contact with the needle tube when working, Tyco Hanze cut the end of the needle that contacts the spring into a bevel. This design concept can ensure a low and stable contact impedance to ensure the stable conduction of the product. The reverse drilling design is a good choice for small size connectors, which can meet the elasticity requirements of customers
  The length of the matching spring of this design can exceed the length of the needle tube. In the case of limited space, the design of reverse drilling can obtain a stable elastic stroke. The flat-bottomed design will not be inaccessible due to certain conditions on the structure of the needle and the needle tube, which will cause the current to not go through the needle tube, and the wall of the needle tube will follow the spring straight, which will cause the resistance to be too large and the voltage will drop in a large arc.
Read recommendations:
M2742 6.0x13(1A)anode electrode Production
M2716 5.5x7.25(1A)anode electrode company
M2648 7.5x5.8(4A)anode electrode company
Structure of pogo pin connector
The processing method of spring thimble is suitable for occasions with different currents