Now the requirements for pogopin thimble processing technology are getting higher and higher. Consumer electronics such as smart phones and smart wearables are becoming thinner and smaller in size, making the originally limited space smaller. In order to better adapt to the equipment, the precision design of the thimble is also It is getting higher and higher. In production, the requirements for technical personnel and production equipment are very strict. Especially when the required performance is different in different scenarios, subtle errors may cause equipment failure.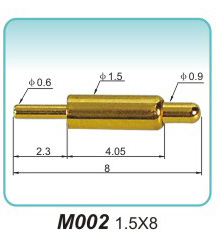 When pogopin thimble is processed, the surface finish needs to be very high, because when doing elastic expansion, if the surface is very rough, it will increase the friction coefficient of the thimble, and there may be jams, especially when used at high frequency. The outer wall and inner wall of the needle head of the thimble are caused to wear continuously, resulting in the rapid reduction of the service life of the thimble. At the same time, as a high-precision product, the size of the thimble is also very important. If the manufacturer's equipment does not work, it will cause deviations in the size and cause trouble in later assembly.
  The increase in the difficulty of the production process will also test the technical strength of the manufacturer. Dongguan pogopin thimble processing custom manufacturer has 12 years of design, R&D, and production experience. In terms of quality, 11 qc strict inspection procedures ensure the quality of each product. Over the years, we have continuously introduced advanced equipment and technical personnel, committed to providing customers with high-quality products and services.
  In recent years, electronic products have become more and more diversified, and their performance standards have become higher and higher. At the same time, the standards for their electronic components have become more stringent. The characteristics and quality of the components affect the operation of the equipment. Now the equipment is updated. , It also makes the product structure design, processing technology, and assembly links of pogopin probe processing more difficult. Small gaps may cause problems in the connector. The manufacturer's development and manufacturing experience and quality management standards are very high, so how to choose one Manufacturers that meet the standards are very important.
  11 qc strict inspection procedures, strictly control the quality of each equipment, pogopin probe processing manufacturer electronics, years of design, development, and manufacturing experience, if you have the corresponding needs,
Read recommendations:
M2742 6.0x13(1A)anode electrode Production
M2716 5.5x7.25(1A)anode electrode company
M2648 7.5x5.8(4A)anode electrode company
Structure of pogo pin connector
The processing method of spring thimble is suitable for occasions with different currents