The main function of the connector is that the signal conduction and the number of times of plugging and unplugging are high, so the conductivity and elasticity (yield strength) of the material are also high. The material is mainly copper alloy. Generally, copper alloys are commonly used as follows:
  1-1: Brass (BRASS): Copper-zinc alloy, with good electrical conductivity, approximately 26%~29% (IACS), depending on the proportion of copper, it can be divided into C2680 (JIS) and C3604, C3601 (required Heat treatment)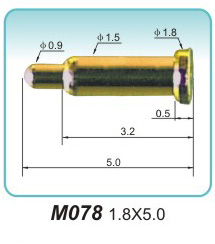 1-2: Phosphor bronze (PHOSPHOR BRONZE): Copper-tin alloy, its conductivity is worse than brass, and its conductivity is about 13%. But its elasticity and ductility are good
  is suitable for pipes with stretching process, and its classification can be divided into C5440, C5191 and C5210 according to the tin content. The higher the tin content, the worse the conductivity and the better the elasticity.
  1-3: Heat-treated copper alloy: For example, beryllium alloy (BERYLIUM ALLOY) has good conductivity and elasticity, but its price is higher.
  Housing&Cap Materials used:
  Provide the main structure and insulation of the connector, and house the Pogo PIN inside it. Materials used: The size, shape, and purpose of the connectors are very different, so the engineering plastics used are even more different. When designing the connectors, temperature resistance, fluidity, mechanical strength, electrical performance, environmental protection requirements and cost should be considered Factors to choose suitable engineering plastics. Commonly used engineering plastics are: LCP, HTN, NYLON46, PBT, PA4T, PA10T, PC, etc.
  Because LCP itself has flame retardant properties, it can reach UL94 V-0 without adding flame retardants, so LCP easily meets RoHS and halogen-free requirements. HTN, PA4T, PA9T are nylon materials, and flame retardants need to be added to achieve UL94 V- For level 0, the manufacturers of HTN, PA4T, and PA10T declare that the materials of the relevant brands use halogen-free flame retardants.
Read recommendations:
M2742 6.0x13(1A)anode electrode Production
M2716 5.5x7.25(1A)anode electrode company
M2648 7.5x5.8(4A)anode electrode company
Introduction to storage of board-to-board connectors!Antenna probe company
competition faced by pin header and female pogopin connectors can be divided into two aspects.pogo