The main function of the spring thimble connector is determined by the applied equipment. It must have a certain degree of resistance to pressure and unique uses. The emergence and development of spring thimble connectors are due to the fact that traditional connectors are easily damaged in harsh environments, resulting in reduced use efficiency, and regardless of maintenance or replacement, it also requires costs. This situation brings extremely inconvenient effects. So in this case, the spring thimble connector gradually replaced the ordinary connector.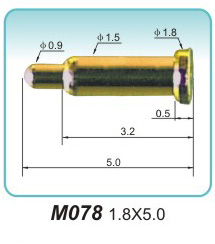 The electroplating of a spring thimble can directly affect the quality of a finished product, and determine whether a product is of good quality or scrapped.
  The spring thimble consists of a needle, a needle tube and a spring. Let us first talk about the spring plating process. The spring of the pogo pin is generally made of beryllium copper, stainless steel, piano steel wire, and various materials have their unique characteristics. There are some basic considerations when designing springs: operating temperature, impedance, elasticity requirements, etc. The spring is basically silver-plated, but if there are high requirements for the quality of the pogo pin, it will be gold-plated. Gold can better improve electrical conductivity and high thermal performance, as well as anti-oxidation and corrosion.
  How to gold-plated spring thimble?
  The needle tube of the spring thimble is a deep-turned part. Usually, it needs to go through the two processes of nickel plating and gold plating when electroplating it. Firstly, it needs nickel bottom treatment. The usual thickness is 1~2 microns. Gold plating is the usual surface treatment layer. The thickness is basically 0.1~1.0 microns. For small-diameter and relatively long blind-hole tubes, it is a challenge when electroplating the inner wall. Usually, a side hole is opened at the bottom end to allow the plating solution to fully flow back at the bottom of the tube to ensure that the bottom of the inner wall tube deposits gold. Or we will tell the customer the basic ratio of the design: length to tube inner diameter.
Read recommendations:
M2742 6.0x13(1A)anode electrode Production
M2716 5.5x7.25(1A)anode electrode company
M2648 7.5x5.8(4A)anode electrode company
Structure of pogo pin connector
The processing method of spring thimble is suitable for occasions with different currents